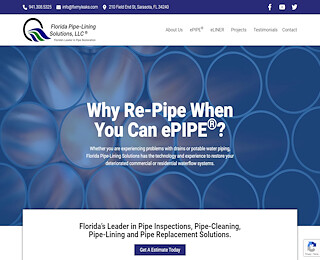 Looking for a pipe liner? Contact Florida Pipe-Lining Solutions. We are experts in pipe-interior technologies that eliminate the need to tear open the floors and walls of your property to minimize the mess and lessen the stress in your part. Contact us through FixMyLeaks.Com and ask for an estimate today.  
Whether you have problems with potable water piping or drains, you can count on
pipe liner
experts to use the latest and most appropriate technologies to rehabilitate your leaking water lines or cracked drains. The best pipe liner companies will fix your system from the inside out, ensuring many decades of trouble-free operation and preventing bigger problems down the line. Be sure to choose a company that only uses proven pipe restoration technologies to fix pipe corrosion, pinhole leaks, lining cracked pipes, and slab leaks. You want a company that can do both commercial and residential jobs. You should also ensure that their plumbers are expertly trained at restoring all kinds of pipes, from copper to galvanized to cast iron.  
The 'traditional' approach to fixing recurring pinhole corrosion, leaks, and other issues was the replacement of defective pipes with new pipes. The problem with this approach is that it involves a lengthy and messy procedure. You will have to tear out floors and walls—and consequently pay for their restoration. Luckily, pipe liner experts like Florida Pipe-Lining Solutions now offer more efficient, mess-free alternatives. We restore your defective pipes from the inside. We specialize in pipe-interior technologies that allow our team to fix your piping problems without tear open your floors or walls. Florida Pipe-Lining Solutions uses a range of technologies to achieve this, including ePIPE—an efficient and safe method. We drain water from the pipe and clean the interior safely using pressurized sand and air. An epoxy barrier coating is then installed, essentially making the pipe interior function like it was new.
Related Post
Why Hire a Tampa Pipe Liner from Florida Pipe-Lining Solutions?
If your water or drain pipes are leaking, have cracks or other damage, or have been compromised in some way, you may have thought it was going to cost a fortune to replace them. You may have even been told by a contractor that the work was going to be cost and labor intensive. If you're putting off repairs due to the high cost of traditional pipe restoration or replacement, the good news is, you don't have to wait any longer. Innovative new technology allows Florida Pipe-Lining Solutions to restore your old pipes with a patented lining service that repairs pipes, in-place, without the need to replace them. Want to hear more? We thought you might!
Just check out a few of the benefits of hiring a Tampa Pipe Liner for the job of repairing or restoring your sewer or water pipes:
Pipe lining can effectively repair lateral, vertical and horizontal pipes- even those that are located underground, and all without excavation processes that typically leave a yard looking like a war zone.
Of course, there is the notable repair savings that come from a significantly reduced amount of labor to complete the job. Pipe repair has gone from being one of the most costly repairs in both home and commercial locations to one that is very affordable.
Spot lining makes it possible for your Tampa pipe liner to repair small areas that require attention rather than having to work on entire lengths of pipe. That means even more savings to the home or business owner.
Pipe lining increases the flow capacity of the pipe. Traditional pipe surfaces encourage corrosion buildup and lead to a decreased water pressure over time. Innovative pipe lining is designed to inhibit the growth of bacteria and corrosion.
Pipe lining offers a longer life expectancy and is considered a one-time solution to a compromised pipe problem. That means you can expect your investment to yield a greater ROI compared with a traditional pipe replacement.
Stop worrying about the 'big-cost' predictions of your friends, co-workers or other contractors you may have discussed the project with and contact Florida Pipe-Lining Solutions at 800-977-5325. Advancements in technology have made massive strides, so what others have described to you as a home repair nightmare can be easily remedied with a single phone call to the most reputable Tampa pipe liner in the industry. Pipe lining can effectively and affordably address both potable water piping and drain pipe systems that are cracked, leaking, or otherwise compromised by corrosion or damage.
Florida Pipe-Lining has solutions to pinhole leaks and slab leaks that are typically very difficult to locate and repair. Visit online to see a complete list of services offered on the FixMyLeaks.com website or get connected with a specialist who can answer your questions or discuss your pipe's issues. Cost-effective pipe lining is the best way to go- just ask the experts.
You don't have to re-pipe to save your water or drainage system. Sometimes, a simple Sarasota pipe liner is all you need. It's definitely less stress because no walls or floors have to be torn down, and the process is more affordable. Visit Florida Pipe-Lining Solutions LLC to know more about our cost-effective solutions. You can also call us at call us at 1-800-977-5325.  
You don't have to shell out a ridiculous amount of money to fix your piping system. In fact, you don't even have to leave your Sarasota house during the pipe liner process. 
The traditional method usually means replacing the pipe if it is damaged. This means the wall or floor wherein the pipe is located has to be excavated. Thanks to alternative solutions, you don't have to do this.
Florida Pipe-Lining Solutions LLC has a patented ePiping solution that is used for commercial and residential buildings. During the process, you can stay inside your house. We do our best not to make excavations and the process is usually done in 2 days. Here are the three easy steps involved in ePiping:
1. The pipes are air dried and heated. Hoses will be attached to the piping system. This will then prepare the pipes for the next step.
2. To remove the corrosions on your pipes, they will be burst sanded with a mixture of abrasive and air.
3. Once the piping is smoothed out, it is ready for epoxy. This will then seal all those pinholes and protect the pipe from future corrosion.
For a proper Sarasota pipe liner, contact Florida Pipe-Lining Solutions LLC today. We can be reached at 1-800-977-5325. You may also fill up our online form to get a free estimate.
We welcome your comments!