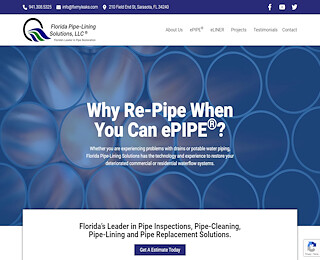 Looking for a pipe liner? Contact Florida Pipe-Lining Solutions. We are experts in pipe-interior technologies that eliminate the need to tear open the floors and walls of your property to minimize the mess and lessen the stress in your part. Contact us through FixMyLeaks.Com and ask for an estimate today.  
Whether you have problems with potable water piping or drains, you can count on
pipe liner
experts to use the latest and most appropriate technologies to rehabilitate your leaking water lines or cracked drains. The best pipe liner companies will fix your system from the inside out, ensuring many decades of trouble-free operation and preventing bigger problems down the line. Be sure to choose a company that only uses proven pipe restoration technologies to fix pipe corrosion, pinhole leaks, lining cracked pipes, and slab leaks. You want a company that can do both commercial and residential jobs. You should also ensure that their plumbers are expertly trained at restoring all kinds of pipes, from copper to galvanized to cast iron.  
The 'traditional' approach to fixing recurring pinhole corrosion, leaks, and other issues was the replacement of defective pipes with new pipes. The problem with this approach is that it involves a lengthy and messy procedure. You will have to tear out floors and walls—and consequently pay for their restoration. Luckily, pipe liner experts like Florida Pipe-Lining Solutions now offer more efficient, mess-free alternatives. We restore your defective pipes from the inside. We specialize in pipe-interior technologies that allow our team to fix your piping problems without tear open your floors or walls. Florida Pipe-Lining Solutions uses a range of technologies to achieve this, including ePIPE—an efficient and safe method. We drain water from the pipe and clean the interior safely using pressurized sand and air. An epoxy barrier coating is then installed, essentially making the pipe interior function like it was new.
Related Posts
Are you looking for a professional Tampa pipe liner who can provide you with affordable service? Florida Pipe-Lining Solutions can provide superior protection to your plumbing while saving you money, all without having to replace your pipes. Pipe lining is cost-effective and reliable for both residential and commercial applications. For a free estimate call 800-977-5325.
You don't have to re-pipe to save your water or drainage system. Sometimes, a simple Sarasota pipe liner is all you need. It's definitely less stress because no walls or floors have to be torn down, and the process is more affordable. Visit Florida Pipe-Lining Solutions LLC to know more about our cost-effective solutions. You can also call us at call us at 1-800-977-5325.
We welcome your comments!